Learn our quick and easy method for figuring out what era a vehicle belongs to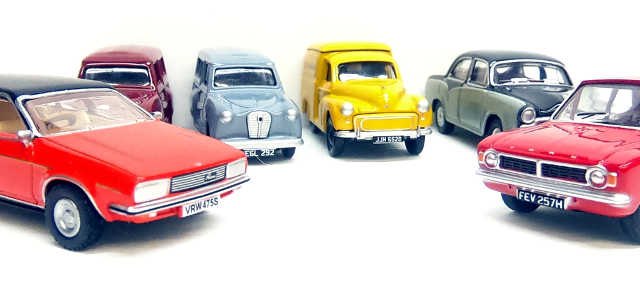 Between manufacturers like Oxford Diecast, Pocketbond "Classix", Base Toys, EFE, Britbus and Rapido, there are plenty of options for vehicles for your model railway in OO scale. Vehicles range from cars to buses to commercial vehicles to military vehicles. One piece of useful information that is regularly lacking from online shops like Hattons or Kernow Model Center, is the era that the vehicle belongs to. Unless you are looking for a specific vehicle or are very knowledgeable about cars, it can be quite a challenge to pick the right vehicles. Hattons often have very good deals on buses and commercial vehicles, but how do you know if they are too new or too old for your layout? In the video below we explain the method we use for selecting vehicles and why vehicles help set the scene on the layout...
You can watch the video below where I explain and provide some examples...
Time Traveling
The first thing you need to think about is when your layout is set. Are you running a steam-era layout from the Big Four (GWR, LMS, LNER or SR) or British Railways era steam (1945 - 1968), perhaps you are running something in the BR Blue era or present day?
You don't need to be 'stuck' in a particular moment of time either. On our layout we run everything from early steam through to the present day. We keep the vehicles in plastic container boxes for the appropriate era. That way, if the running session is set in the 1930s, we can break out the appropriate cars and rolling stock for that time. When it is time to run a modern HST or Class 800, the appropriate vehicles are pulled out of the box and placed on the layout.  
Location... Location... Location...
The next thing you need to consider is location! This is particularly important for vehicles like buses, dust carts or delivery vehicles. If your layout is set in Scotland, you are probably not going to see a bright red London bus, but likewise if your layout is set in Leeds, you probably won't see a local Scottish delivery vehicle. Now you can always repaint or re-livery commercial vehicles, so you can still take advantage of those bargains.
Aside from the obvious advantages we have mentioned above when selecting commercial vehicles. You also need to consider the types of vehicle you would see at the location you are modeling. If you have a Post Office for example, you would see Royal Mail vehicles in the vicinity. Look at the location you are modeling and think if the vehicle you are planning to place there makes sense or not...
Vehicle Condition
The next thing to consider is how would the vehicle look at that time and that location? The nice thing with a more modern era is that you have a wider selection of vehicles because you could potentially use cars from the 1960s and 1970s in a present day layout. Depending on the location, they could be a valued classic car, very glossy and clean. The same vehicle though could be out behind the garage as someones next project vehicle in a less than new condition. Once you've decided on an appropriate finish for the vehicle, you can decide to weather it or add some rust, or shine it up like its just come out of the car wash.

Cars
Figuring out which cars are suitable for your layout is very easy if the number plate is from 1963 or later. You simply decode the number plate for the model car, and you'll immediately know which year the car was first registered.
For cars prior to 1963, you will need to do a little bit of research to determine when that model car was first produced. Depending on your personal preference, it maybe sufficient to just know the plate is before 1963 or an earlier plate from 1903 to the mid-1930s.
Some of the number plate systems have an area identifier which tells you where the vehicle was first registered. People often relocate to different parts of the country, cars are also regularly sold, so having an area identifier that matches the area you are modeling isn't too important. Although if you are creating custom number plates, you may want to have more of a certain sequence to reflect that some of the cars would have area identifiers that match the local area.
You can find a list of present day area identifiers as well as a calculator to decode UK number plates at https://www.newreg.co.uk/dvla-number-plate-identifiers/
If you are placing an older car on a more modern layout, don't forget to consider the model and make of the car. Is it a collectible model that may have been taken care of more carefully than someones old banger of a car? A model of car that is more appealing to an older car buyer may have had less mileage, stored in a garage and well cared for. While other models maybe more likely to be well used during its lifetime.
Buses
There are a number of companies that manufacturer model buses, including some new comers to the market like Rapido. Just like model cars and trains, buses can easily be repainted and modified to match the area you are modeling. At a minimum, this might involve just updating the bus number and destination board.
Just like cars, you can use the number plate on the bus to determine the year the bus would have started to enter service. Unlike cars though, buses have liveries that may have ceased to be used at some point during the lifetime the bus was in service. Some bus companies no longer exist. There are a number of questions you need to evaluate whether a bus is suitable for your layout or not...
Does the livery of the bus suit my chosen time period?
Does the bus livery or company match my chosen region?
Would the bus have been passing through my area (if it was from a different region) ?
Was the bus company still operating during that time?
Was a newer livery applied to an older bus? In this case the livery maybe unsuitable for the reg year.
In the case of a bus company that was out of business, what happened to the fleet?
Would this bus have been in service during my chosen time period?
Some of the liveries on buses are from test buses owned by the manufacturer. For example. we have a Britbus Metropolitan Double Decker bus with a Metropolitan livery and The Bus of the Future on the destination board. This bus has a number plate of NVP 533W. which would place it between 1963 and 1983, the bus being a W-reg vehicle, places it between August 1980 and July 1981. This particular bus would work well if we were doing a running session from the early 1980s, however the bus would be too new for a early 1970s session and the livery perhaps a little too old for a 1990s or 2000s layout. You can use this information to make an informed purchase, especially when hunting bargains.
A good example is this current bargain (as of September 2019) over at Hattons, which can be found at https://www.hattons.co.uk/24069/britbus_r803_scania_alexander_r_d_deck_bus_maidstone_boro_line_/stockdetail.aspx.
This particular bus has a Boro' Line Maidstone livery, so its specific to the Maidstone borough in Kent, and would have been seen on routes in and around the area. The Boro' Line branding was introduced in October 1986. This particular bus has a number plate of E702 XKR, which means its an E-reg number plate, dating it to August 1987 to July 1988. The Boro' Line service went into administration in February 1992. While the livery and age of the bus may limit its possible uses, the type of bus - Scania Alexander R, was quite extensively used and that opens up a wide range of possibilities to simply repaint the bus. However, if you are looking for a bus that belongs to an earlier time, you will need to find another option.
Commercial Vehicles
Commercial vehicles are a little more forgiving than buses, provided that the company was operating at the time of your layout. Some common sense is also needed for commercial vehicles. For example, if you have modeled a Shell or BP petrol station, its unlikely that you would have petrol delivered by a Texaco tanker truck.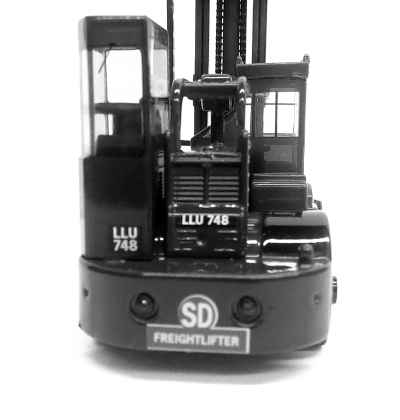 Other than that, it should be quite easy to either repaint or weather away the fact the brewery truck is for a Scottish distillery when you are looking for something for your Welsh layout.
You will want to consider if a vehicle is too old for viable commercial use. For example, a delivery truck from the 1950s is more than likely not still in use today. Applying some common sense will go a long way when trying to determine if the model and condition of the commercial vehicle where its applicable for your layout.
Its quite possible that an old delivery truck might be on display at a factory or museum on a present day layout. However its unlikely that branding from a time long gone would be seen on a more modern layout.
Don't Forget the Milk!
There are a number of milk floats available in OO scale, provided the number plate is not in the future for your layout, these make a fantastic addition to any layout, as they wouldn't be out of place parked in front of a house on your layout!
Number Plate Method
The number plate method is by far the quickest and easiest way to figure out if a vehicle is suitable for your layout. Whether you already have the vehicle or you are looking at pictures online or examining the vehicle at your local model shop, simply decoding the number plate will help you make an informed decision.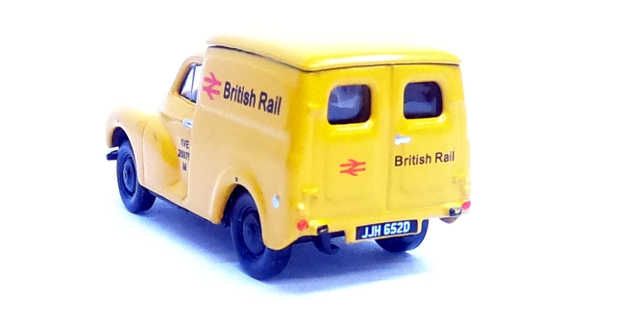 Cheat Sheet
Below is a quick cheat sheet for matching number plates to eras, each type of number plate is explained in detail below.
AB51CDE Two Letters, Two Numbers, Three Letters Current System (Sept 2001 - )
A123ABC One Letter, One to Three Numbers, Three Letters (8/1983 - 9/2001)
ABC 123A  Three Letters, One to Three Numbers, One Letter (1963 - 1983)
ABC 123  Three Letters, One to Three Numbers or reversed (Before 1963)
AB 1234  One or Two Letters, One to Four Numbers or reversed (1903 - mid 1930s)
Current Number Plates (From September 1st 2001)
The current number plate system in the UK consists of two letters, two numbers and three letters. The first two letters are the area identifier, the first letter denotes the general area while the second letter is the specific town or city. The area identifier used in this system are different from ones used in previous UK number plate systems.
The two numbers indicate the year / time period that the vehicle was first registered. You can find a table listing the years and identifiers below. The three letters are unique to the vehicle being registered.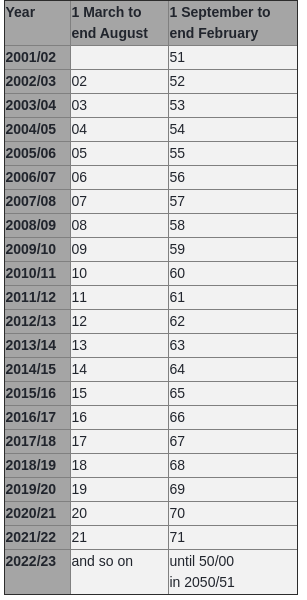 Old Prefix Letter Number Plates (August 1983 to August 2001)
Prior to August 2001, the old prefix letter number plates consisted of a letter, three numbers and three letters. The first letter indicates the year the vehicle was first registered, now keep in mind that "first registered" doesn't always mean "manufactured". A car manufactured in 1985 may not have been sold and registered until 1986 or 1987 even.

The last two letters are the area identifier for where the vehicle was registered. The three numbers and the second letter are unique to the vehicle.
Example: A152 SUW
In our video, one of the vehicles we look at is a Rover SD1 3500 Vitesse in Metropolitan Police livery. This vehicle is from August 1983 to July 1984, the unique identifier for this vehicle is 152S, while UW is the area identifier.

You can find a list of the years and their corresponding prefix letters below.

Old Suffix Letter Number Plates (January 1963 to July 1983)
Between 1963 and 1983, the number plates had a suffix letter that denoted the year the vehicle was first registered. These plates had a format of three letters, three numbers and a suffix letter. The first letter and three numbers were unique to the vehicle. The second and third letters were the area identifier and the last letter indicated the year. You can find a list of years and letters below.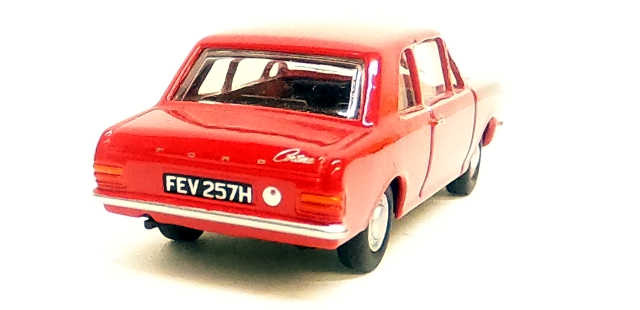 In our video we took a look at a number of vehicles with this style of plate. One Ford Escort XR3i in yellow had the number plate RWX 295W. This number plate indicates the car was first registered between August 1980 and July 1981.

Old Three Letter Number Plates (Before 1963)
From the mid-1930s until December 1962, number plates were in a three letter and three number format. These number plates were typically black with white/silver/grey lettering. These number plates could be reversed, so JAS 240 or 240 JAS. The first letter and the number were the unique identifier for the vehicle while the second and third letters were the area identifier. If the plates were reversed, the second and third letters were still the area identifier. Unfortunately there is no way to identify the year but these number plates were issued in sequence. So in our example above, JAS 240, the area would have issued this as JAS 1 to JAS 999, then KAS 1 to JAS 999. So a first letter further down the alphabet might give you a ballpark idea that the number plate is closer to 1963 than the 1930s, however it could depend on the area how much closer.

It is important to note that while these plates always had three letters, they had up to three numbers, so to continue with our example, JAS 1, JAS 12, JAS 123 but it doesn't look like you would have had JAS 001 or JAS 012.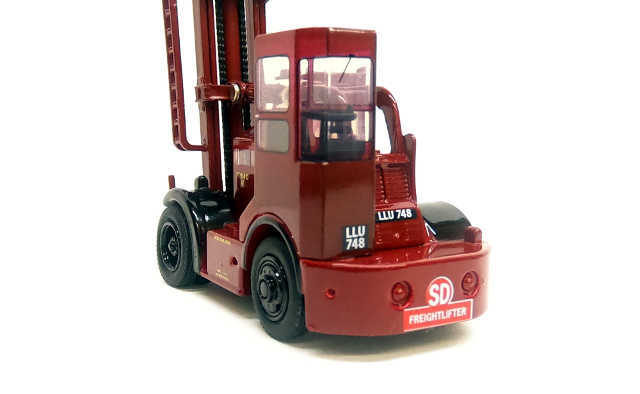 This style of number plate was issued in some areas until 1965, it is worth noting that these plates are being issued today for re-registration of classic vehicles. You can tell if a plate is a re-registration because it will have a plate between ASL100 and YSL999. The SL area identifier was never used during the original registration period and can be used to recognize a re-registration in modern times.
Old 1 or 2 Letter and 1 to 4 Number Plates (1903 to Mid-1930s)
From 1903 until the Mid-1930s, the number plates had one or two letters, and up to four numbers. It is worth noting that a few rare plates were issued in the 1950s/1960s when three letter registration numbers ran out.

These older plates were issued in sequence from 1 to 9999. The one or two letters denoted the area identifier. Re-registration for vintage vehicles older than 1931 use SV8000 to SV9999, this series was never originally used. Just like the system use from the 1930s until 1963, this number plate system was also used in reverse.
Reflective Number Plates
The following is courtesy of Ian Barker, contributed via YouTube comments, and worth mentioning here.
Number plates switched to reflective (white front, yellow rear) plates from the earlier black and silver type.

Reflective plates first became available as an option from 1967 with the E suffix. They became compulsory on new cars from 1975 with the P suffix. If you look at contemporary TV and film though you'll find that reflective plates were pretty much the norm on new cars by the early 1970s.

The government has muddied the waters a bit recently by making black and silver plates legal on classic cars in line with the 40 year rule for free road tax. I've noticed this leading to one or two errors in period dramas where cars are wearing black and silver plates that wouldn't have been legal at the time.
Manufacturers of OO scale Road Vehicles
The following are some of the manufacturers that produce OO scale road vehicles.
Oxford Diecast: https://www.oxforddiecast.co.uk/
Pocketbond Classix: http://www.pocketbond.co.uk/BrandMenu.aspx
Rapido Trains UK: http://www.rapidouk.com
EFE: https://www.bachmann.co.uk/exclusive-first-editions/
Bus Companies
The National Bus Company (NBC - not to be confused with the American TV network) was a nationalized (state owned public company) that was responsible for a number of subsidiary regional bus companies. It operated from January 1969 until April 1988. The company had a very recognizable double-N logo.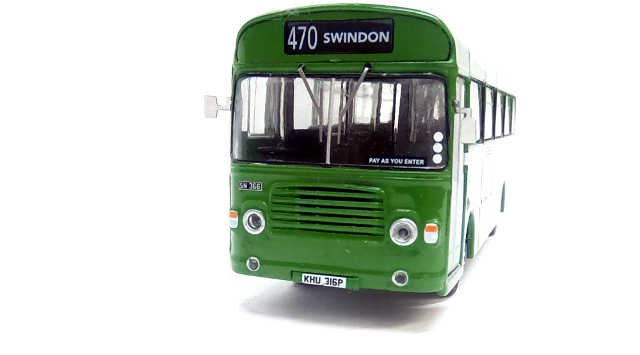 Historically there has been an extensive number of bus operating companies in the UK, far too many to list in this article. You can click here for an extensive list. The current bus operating companies in the UK can be found here. Here is a list of the larger groups:
Some of the model buses we have represent the following companies:
There are plenty of photographs to help you research vehicles on the Internet. Flickr is one site that is very popular with British Transport photographers, and has a wealth of information. You can click here for an extensive list of UK Bus groups on Flickr, which you can then pick and choose from to suit the location or general region of the UK you are modeling. This technique also works for other vehicles.
Further Research
There are lots of ways to do additional research, if you are a modern modeler, this is as easy as looking around outside the next time you are headed into town. If you are modeling a time in the past, then groups of flickr as well as YouTube are great resources. You just need to use a bit of common sense when searching.
For example, Leyland manufactured a lot of lorries and buses in the UK, so searching for Leyland specific groups on flickr will yield a lot of useful photographs. Websites like pinterest and British Pathe are valuable assets to the modeler.
If you are looking for photographs of cars, remember that thinking a little outside the box can yield fantastic results. A couple of examples are this search for petrol stations or this group featuring cars at kerbs or this group featuring car parks.
Feedback
If you found this article useful and are interested in more content like this, take a moment to subscribe to our YouTube channel and leave a comment on the video. Likewise if you have any suggestions or ideas to help improve these videos and articles, please let us know either on the video, via Twitter or on our Facebook Page.