Episode 2 of Model Railway Train formations takes a look at a present day rake of Scotrail Mk2F coaches used with Class 68 loco hauled passenger services on the Fife Circle Line.
Fife Circle Line
The Class 68 / Mk2F loco hauled passenger services run on the Fife Circle Line which is a local rail service that runs north from Edinburgh. It provides services to the towns south of Fife and coastal towns along the Firth of Forth. The line is actually a point to point line, with trains reversing at Edinburgh Waverley, and a bi-directional balloon loop at the Fife end.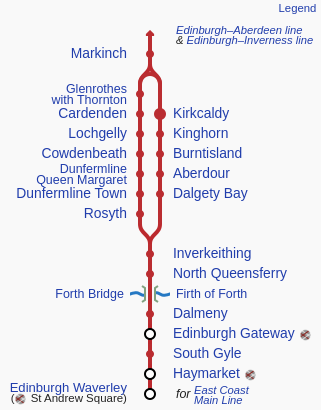 Scotrail Saltire Livery
The Scotrail Saltire livery was first introduced around 2008 and is designed to be operator independent so that the fleet does not need repainted every couple of years. The operator branding on the Mk2F coaches for example is on the doors.
Current Operator
The current operator of Scotrail services is Abellio which took over the franchise on April 1st 2015. Having failed to meet performance criteria for a contract extension, the Abellio will cease to operate the franchise in March 2022.
Suitable Era
The locomotives and rolling stock listed below / shown in the video are suitable from around April 2015 until March 2022. You can see a video of the real full sized prototype delivering two Class 68s and Mk2F coaches on March 30th 2015:
Locomotives
The Class 68 is available from Dapol in OO scale. Both the Scotrail Saltire and Direct Rail Services (DRS) liveries were produced.
Livery Match
The Dapol Class 68 and the Hornby Mk2F coaches in Scotrail Saltire livery appear to be an exact match, no visible colour differences between the liveries from different manufacturers. We have not seen the Bachmann Mk2F coaches yet.
Train Formations
There are four standard train formations that can be seen on the Fife Circle Line in Scotland today involving the Mk2F and Class 68 on passenger loco hauled services. Two of the most common formations can be found in the first diagram, this can be achieved with one Hornby Mk2F BSO and five Hornby Mk2F TSO. Unfortunately there is a very limited number of factory running numbers so you will need to purchase duplicates and optionally renumber.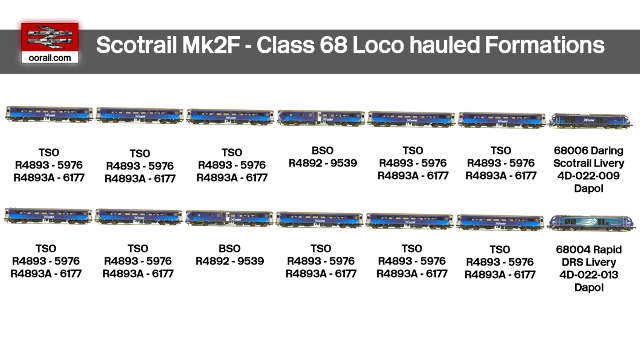 In addition to the above two very common formations, two additional formations can be seen regularly that replace one of the TSO with a second BSO: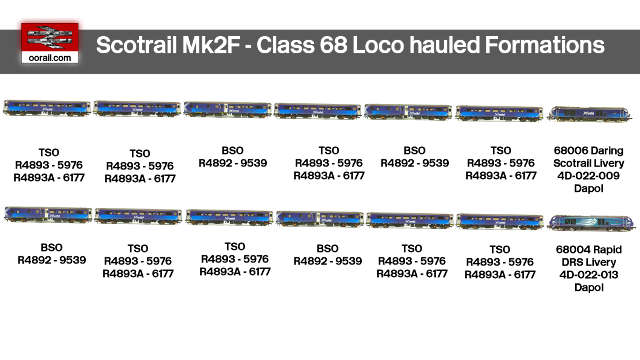 If you would like to be able to reproduce all four formations you will need 2 x BSO and 5 x TSO, with one of the seven coaches being unused (either a TSO or BSO depending on the chosen formation).
Upcoming Models
If you missed the Hornby BSO/TSO releases R4892, R4893 and R4893A, the good news is that Bachmann have both DC and DCC versions of the Mk2F in Scotrail Saltire livery due out in 2020. You can find more details over at Bachmann:
39-680: Mk2F TSO in Scotrail Saltire Livery
39-704: Mk2F BSO in Scotrail Saltire Livery
The DCC versions have the same product codes but with a DC suffix.
Research
In addition to photographs, we reviewed dozens of YouTube videos featuring recent Class 68 and Mk2F coaches. Here are a couple of our favorites:
Related Models
The Scotrail HST in Inter7Cities livery from Hornby would be a good companion to the Scotrail Saltire Class 68 or DRS Class 68 with the Scotrail Saltire Mk2F coaches, especially if you are modeling Edinburgh Waverley.