This week saw the arrival of the Scotrail Inter7City livery Class 43 HST by Hornby and with it the return of quick reviews to oorail. The new express review is designed to give fellow railway modelers a look at new locos and rolling stock. Our goal is to inform, not influence.
Pre-order
We acquired R3698 Scotrail Class 43 HST Pack on pre-order from Hattons. This model is currently widely available from multiple retailers at a cost of £260. As we are outside the UK / EU, we are not subject to VAT and so our cost was £217.50. The Mk3 coaching stock in Inter7City livery is expected to be released sometime this Autumn by Hornby.
Scotrail HST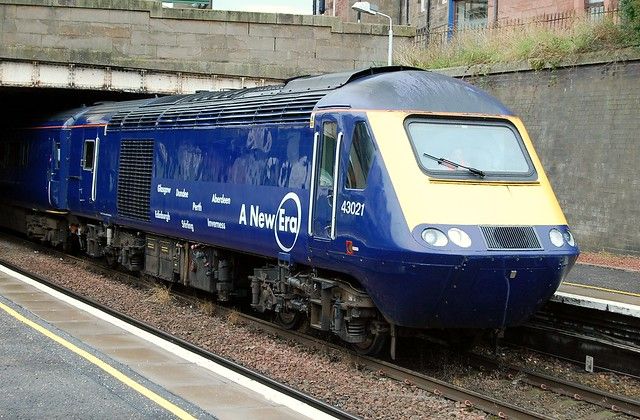 Scotrail started HST driver training runs in September 2017. A total of 54 Class 43 HST power cars are being operated by Abellio Scotrail using a shortened 4-car and 5-car formation.
The Scotrail HST services provide passenger services to the seven major cities in Scotland:
Aberdeen
Dundee
Edinburgh
Glasgow
Inverness
Perth
Stirling
Hence the new striking Inter7City livery: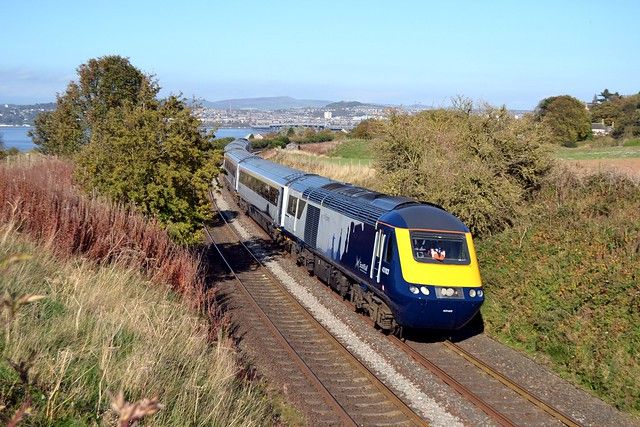 This new livery features two different silhouette of landmarks from the seven cities, with Scotrail branding and the words "Scotlands Railway" in Scottish and English.
Era
The Scotrail HSTs went into service in October 2018 and are currently providing services.
Formations
The new HST services will run a shortened formation that consists of:
Four car (power cars at both ends):
TGFB - TSD - TS - TSL
Five car (power cars at both ends):
TGFB - TSD -TS - TSL - TSL
These coaches are:
TGFB - Trailer Guard First Buffet (First Class with Mini-Buffet and Guard seating)
TS - Trailer Second (no toilet)
TSD - Trailer Second (with wheelchair accessible toilet)
TSL - Trailer Second (with small toilet)
Scotrail are not the only operator to run shortened HST services, GWR run four car services with the HSTs also. The Scotrail HSTs replace Class 170s, while the HSTs are coming from First Great Western where they were replaced by Class 800/801/802 sets.
Running Numbers
Hornby have selected 43033 and 43183 as they hold special significance. The 43033/43183 pair ran the inaugural 12:55 Aberdeen to Edinburgh press launch of Inter7City on October 10th 2018. These locomotives also represent Class 43 HSTs from the first and last production runs respectively.
Refurbished Coaches
Hornby are releasing re-tooled Mk3 coaches in Inter7City livery that correspond to the refurbished Mk3 coaches operating in Scotland. The refurbished coaches feature slide doors instead of the traditional slam doors that HSTs are known for. Scotrail currently operate seven four car sets in Inter7City livery that have been refurbished. These are HA20 thru HA26.
Mixed Liveries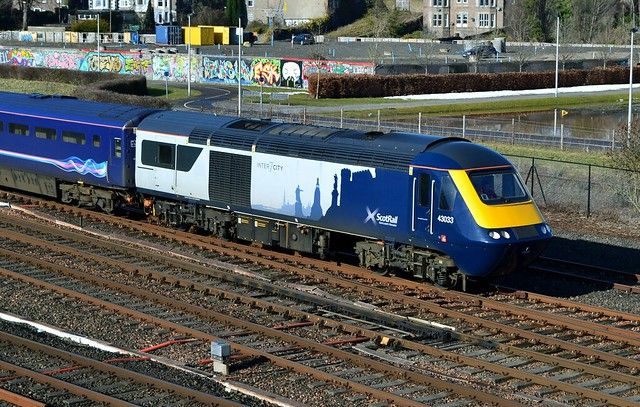 Scotrail currently operate a mix of slam-door and refurbished slide door mk3 coaching stock. The slam-door formations consist of TFD-TSD-TSL-TGS with power cars on either end. The Inter7City livery HST power cars can be paired with First Great Western Blue Neon/Dynamic lines as seen in the photograph above, minus the branding, First Great Western Blue, minus the branding or Great Western Dark Green, minus the branding. Scotrail will continue to operate these mixed liveries while sets are being refurbished.
Maintenance Depots
The HST sets are being maintained out of the HA Haymarket Depot, and IS Inverness is being used to maintain coaching stock.
Express Review and Running Session
You can find out more detailed information at http://www.scot-rail.co.uk/page/HST+ScotRail+Fleet